Twin Eagle Grills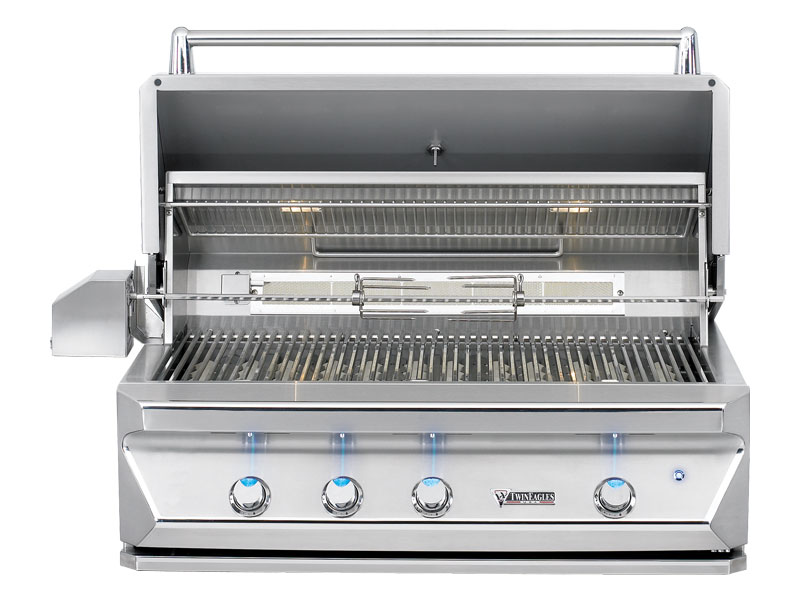 Hilltop Block and Supply is an authorized distributor of Twin Eagles Grills.  We carry this line because it is one of the best products available in the outdoor grill category.  Excellent performance, design, and durability.
Creative design, handcrafted construction, and professional performance have long been the characteristics that have made Twin Eagles Grills the leader in the premium grill and outdoor kitchen industry. These traits are the foundation for the Twin Eagles line of products.
Although Twin Eagles style is truly unique and each product is constructed to exacting standards, the performance of the grilling system is what separates Twin Eagles from other premium grill brands.
Stylish outdoor kitchens are the latest trend in entertaining. Choosing the right grill and accessories for your perfect backyard entertainment center is important. It's your personal touch to your outdoor kitchen, a reflection of your lifestyle.
Twin Eagles design is truly unique, with exclusive geometric shapes, contoured angles, seamless welds, and hi-polished accents. Every grill is an intriguing blend of modern design and classic elegance, making them a perfect match for both traditional and contemporary architecture.
With 30″, 36, 42″ and 54″ size built-in and freestanding grills, a full line of accessories, built in bar accessories, outdoor heaters, sinks, coolers and keg dispensers – Twin Eagles and Hilltop Supply will ensure the best outdoor living experience.
Come visit our showroom to see the newest line of Twin Eagles grills and the product line up for 2019.