5 Essential Tips for new Hardscapers
ilian
If you are new to the lifestyle of hardscaping, you might be a little overwhelmed with the choices and time frames you are expected to meet.  Here are 5 tips we hope will set you on the right path for managing your project.
Tip #1 
Have a Vision
It's important to have an idea of the overall feel you want to convey in your area. This will help drive your decision in color, shape, texture and placement of your hardscaping.
Tip #2 
Plan it out
Visualizing your project with pen and paper helps Hilltop Block and your contractor to understand the project and get things started.
Tip #3
Know your product
Hilltop Block wants to educate you on everything hardscaping.  This website is designed to showcase all the possibilites and the product to achieve that with.
Tip #4
Find a contractor
Hilltop Block can refer you to a contractor in your area.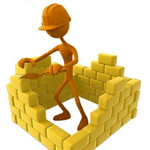 Tip #5
Execute
Once you have everything in place focus and get started.