10 Summer Hardscape Ideas
ilian
It's that time of year where every day is longer and hotter. So enjoy yourself in your yard with friends and family. Here at Hilltop Block we put our experience and expertise together along with some of our favorite ideas for creating or improving your outdoor living area.
10. Upgrade the Grill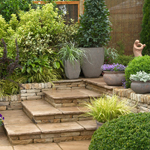 9. Pots and Plants
Create interesting space and focal points by layering the perfect plants to accent your patio, poolside, or deck.
8. Add a Pond

Once thought as a luxury, ponds are more common place than ever. Fill it with goldfish, turtles, or floatng flowers to wow your friends. A well designed pond can become the conversation piece of any outdoor gathering.
7. Sealers
Sealers can add impact to any weekend project. Environmentally friendly and affordable, you can't miss with this upgrade.

6. Build a Path / Walkway
Bring together two areas that would normally be distant and unappealing with a paver walkway.
5. Upgrade your furniture
Consider a wicker set in a complimentary tone and color coordinated with your home and hardscape.
4. Think about Texture and Color
Small areas can be recreated for maximum impact in large or small areas. Selecting a small area for this upgrade can add a whimsical appeal to any existing poolside, patio, wall, or walkway.
3. Fireplace
Never let chilly weather affect your outdoor gathering.
2. Lighting
Bringing illumination to your hardscaping project has never been easier and more cost effective. Extend your main lighting to new areas. Perfect for patios and poolsides.
1. Bring Out the TV
With an outdoor safe mount or stand and an electrical line, you can enjoy your outdoor living space on those warm summer nights.